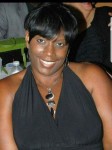 July 25, 2018
Resided in

Philadelphia

,

Pennsylvania
Obituary
Good Morning, it's me Trenita Renee Hill-Thomas however some of you may know me as Tree. As you know I departed for my final journey to eternal paradise with my heavenly father on July 25, 2018.
I was born to Alice Louise Hill- Hankerson and Thomas Lee Montgomery on August 23, 1957 in Philadelphia, PA. They both proceeded me into this new life. They have embraced me and welcomed me home with open arms!
I was educated in the Philadelphia Public School System attending both Morton McMichael and University City High School. Upon graduating high school, I attended West Chester University. It was there where I met a group of women who would forever hold a special place in my heart my- my Dark and Lovely Sisters.
On October 24, 1981 I married Louis Lawrence Thomas, Jr. Because of this union I was blessed with a precious gift from God. My one and only, my baby Louis Lawrence Thomas III. Louis was indeed the light of my world and the center of my joy. Simply put God blessed me with a baby boy, and I watched him turn into a man. I thanked God daily for giving me this blessing.
In addition to my undying love for my son and my family I had a limitless love for God. It was at early age where I devoted myself and my time to the Lord, more specifically Grace Lutheran Church. In 1972 I joined, under the Pastoral leadership of Rev. Paul A. Hagerdorn. I continued my fellowship as active member by fulfilling many duties, taking on tasks and offices until the time of my transition. Some of my duties over the years include Church Council Member, Financial Secretary, Counter, and Finance Committee Member.
By the same token I have always had a devoted work ethic. From an early age I have held numerous jobs which include The Record Shop and Thriftway Market. During my later years I also worked at United Engineers, Turf Club, Prudential, Slone Toyota and my most recent job Stericycle.
As all of you may know I had an avid love for travel. I've traveled from Atlantic City to Canada with many friends and family. My last trip being a Caribbean Carnival Cruise with my BFF and Travel Partner Terry. I also enjoyed my numerous trips to Disney World with most of my visits being with my only Son. Lastly, I loved amusement parks, fine dining, movies, and shopping.
My life on earth has been full. I served a loving God, provided unconditional love and guidance to my Son and loved and supported my family and friends. I've gotten the chance to reunite with my incredible Grandmother Louise Player who provided me with much love, care, and direction. In addition, I also reunited with my aunts and uncles, Linda, Alexander, Dora Mae, and David…lastly my precious cousins Steven and Calvin are here too.
When I departed for my heavenly journey I left to cherish my memories my son, Louis Lawrence Thomas III, stepfather; John Hankerson; siblings; Joan (Spencer) and Tina. Aunts and uncles; Patricia, Calvin, and Ronny (Jako). Niece and nephews; La'Tora, Spencer, and Jamir, great niece Dior and Goddaughters; Keisha, Shantina, and Maurica, and a host of loving family members and friends.
Well it's almost time for me to begin enjoying eternal paradise, but before I go must acknowledge a few special people. To my Sisters Joan and Tina, I know it hurts to see me go so soon however I know you understand that God had bigger plans for me. A sisterhood like ours is unbreakable. To my Aunt Patsy who I love dearly, oh how I will miss our travel times and long conversations please continue hold down the family. To my Nieces, Nephews, and Goddaughters, continue to cherish the wonderful memories we shared. Know that I loved each of you so very much!
And lastly to my one and only…I love you so much Son and I hope that you take everything that I taught you and use it help you. I know you do not understand but look to God for strength and guidance. I love you dearly my baby. Until we meet again.
Love,
Trenita R. Thomas
To plant a tree in memory of Trenita Thomas, please visit our
Tribute Store
.
Services
To plant a tree in memory of Trenita Thomas, please visit our Tribute Store.
Visitation
Terry Funeral Home
4203-05 Haverford Avenue
Philadelphia
,
PA
US
19104
Visitation
Grace Lutheran Church
3529 Haverford Avenue
Philadelphia
,
Pennsylvania
19104
Service
Grace Lutheran Church
3529 Haverford Avenue
Philadelphia
,
Pennsylvania
19104
Burial
Chelten Hills Cemetery
1701 East Washington Lane
Philadelphia
,
PA
US
19138