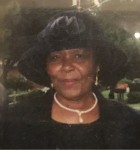 March 7, 1930
-
January 2, 2021
Born in North Carolina
Resided in

Philadelphia

,

Pennsylvania
Obituary
On Saturday morning, January 2, 2021, Roberta Brown, peacefully transitioned into the arms of our heavenly Father.
Roberta was born on March 7, 1930 in the Tierra Ceia Community of Pantego, North Carolina to the late Lydia Harvey (Bunch) and the late John Whitaker. She received her formal education in the public schools of Beaufort County, North Carolina. Roberta accepted Jesus Christ as her Lord and Savior at an early age. She was a long time member of Queen Chapel Disciples of Christ under the pastorate of Rev. G. R. Lovick. She actively participated in church activities and was best known for singing. After graduating from twelfth grade, Roberta attended nursing school. However, she did not complete her studies instead; in 1951 she migrated to Philadelphia. She worked as a domestic and in the factory industry before meeting the late Josephus Brown whom she married. Five children were born from their union. For several years Roberta was a dutiful homemaker before returning to domestic and factory work.
Many of the clothing her children wore were sewn by her. Roberta earned a certificate as a seamstress from the Opportunity Industrial Center (OIC). Doing so lead to Roberta's employment with the Defense Supply Support Center (DSSC) where she participated in the manufacturing of military uniforms. Roberta delighted in seeing a military person walking down the street for she was convinced that she had sewn the collar or pockets and or had sewn on the buttons of the uniform the individual was wearing. Roberta was awarded for outstanding job performance. In order to increase her income Roberta became a janitor at DSSC. It was in many of the bathrooms where she prayed with her co-workers who were in distress and ministered to many. She retired in 1993.
After retirement, Roberta's desire to be a nurse was fulfilled as a member of nurses' ministry at Morris Chapel Baptist Church where her membership began under the pastorate of Rev. James S. Hall. She served on the nurses' ministry under the pastorates of the late Rev. Boyd E. Rodgers, Sr. and Rev. Dr. Vernon S. Thompson, Sr. For many years she served as the president of the ministry and remained until her health began to fail. In addition to her service on the nurses' ministry, Roberta was a member of the hospitality ministry. Roberta worked in the day care program at Morris Chapel and worked with the food pantry committee for several years. She was an active Sunday School member and attended Wednesday night bible study and prayer.
Ever the one seeking to learn, Roberta took piano lessons for a few years. Her greatest triumph as a result was to play flawlessly the song, "Happy Birthday" for the fifth birthday celebration of her granddaughter Shavonne. Roberta enjoyed singing, cooking, crocheting and arts and crafts. She was known for her homemade fruitcakes. She had a keen since of humor. If you wanted to know what was on her mind she would tell you in a straight forward polite way. Roberta was also known for her stylish hats.
Roberta was known by other names; Bert, Berta, Mom. The name that she loved the most was Grandma. She adored her six grandchildren and nine great grandchildren.
Roberta leaves to cherish her memories her daughters, Diane, Carolyn and Gwendolyn and her son, Josephus, Jr.. She is predeceased by daughter Linda. Roberta leaves her brothers, Jack Bunche of New York, Willie Ray Bunch, Bishop Melvin Bunch (Tonya) both of North Carolina and her sister Hattie A. McCarvin of Delaware. She leaves to mourn and cherish memories her aunts, Olivia Whitaker and Sadie Harvey both of Philadelphia. She will be sorely missed by her grandchildren, great grandchildren, and a host of cousins, nieces, nephews, friends, neighbors and her church family.
Lovingly Submitted, The Family
+
To plant a tree in memory of Roberta Brown, please visit our
Tribute Store
.
Services
To plant a tree in memory of Roberta Brown, please visit our Tribute Store.
Burial
Private
Visitation
Fellowship Greater Jehovah Baptist Church
3314 Germantown Avenue
Philadelphia
,
PA
US
19140
Service
Fellowship Greater Jehovah Baptist Church
3314 Germantown Avenue
Philadelphia
,
PA
US
19140