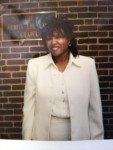 March 2, 1952
-
October 23, 2018
Born in Philadelphia
Resided in

Philadelphia

,

Pennsylvania
Obituary
Obituary
Proverbs 3:5-6
Trust in the LORD with all thine heart; and lean not unto thine own understanding. In all thy ways acknowledge him, and he shall direct thy paths.
PATRICIA ANN BLACKWELL-RAY, was born on March 2, 1952, in Philadelphia, PA to the late Congressman Lucien Edward Blackwell and Clara Houser Blackwell. In 1970, Patricia married William Robert Ray, who passed in 1976. Patricia was the oldest of six siblings, whom she adored, and, the proud mother of Niya L. Blackwell, Esquire and William R. Ray II.
Patricia attended the Henry C. Lea Elementary School and graduated from the West Philadelphia High School. Later, Patricia furthered her education by taking writing courses at Saint Joseph's University and at the University of Pennsylvania. In her quest to learn more about Theology, Patricia attended the Philadelphia College of the Bible.
In 1974, Patricia began working at the Bell Telephone Company (presently known as Verizon), where she advanced in the company and retired in 2005, after 31 years. While at Bell, she became a member of Toastmasters International, a communications and leadership development organization. Toastmasters enabled her to hone the skills that would later be useful in the numerous organizations and auxiliaries in which she served.
Active civic engagement was a priority for Patricia, and she worked on her family's campaigns, dating back to the 1970s. She served as Judge of Elections in the 46st Ward, 23rd Division, a position that she was continuously elected to over the course of several decades.
Everyone loved Patricia because she was a special lady, a woman of character, virtue and faith. In 1975, she accepted Christ as her Lord and Savior and devoted her life to her children and her church. While the children were young, the family attended the Beulah Baptist Church, where Patricia served as a Sunday School Teacher, the Chair of The Youth Department and Director of the Drama Club. As she committed herself to the church, she insisted that her children become active as well; and, like their mother, they participated in the youth department, drama club, sang on the church choir, and attended Christian camps. One of the highlights of her spiritual journeys, was a trip with her father to Israel in 1993. In her words, "the experience was remarkable and rewarding".
For the past nineteen years, she was a member of the Fresh Anointing Christian Center, where she was respected and admired for her hard work and dedication towards each and every church initiative. She labored for her church, but it was a labor of love, as she spent an enormous amount of time being active in many ministries and committees, including: The Drama Team, where she wrote and directed several short plays and skits and the Special Events Team, where she directed all church conferences, celebrations and events.  She also participated as a speaker at several leadership summits and retreats She also participated as a speaker at several leadership summits and retreats.
Patricia was a loving and attentive mother. One who never missed any event her children participated in from grade school through adulthood. Every recital, sporting event, contest, promotion, new venture, etc.; and, she insisted that her children celebrate each accomplishment, no matter how big or small.
Patricia's greatest joy in life was becoming a grandmother. From 1995, when her first grandchild was born, until her death, she was a doting grandmother to Malik, Daqwon and Keira. She would make visits and holidays very special for them, focusing on each child's desires. She was always there to provide encouragement and guidance, and to give special gifts to make them happy. She wanted the best for them and made sure they knew the importance of God, family and education.
Patricia was also a very creative woman and of all the things she did, she loved event planning the most. Weddings were her specialty. She was known for creating beautiful and unique floral arrangements and creating unforgettable memories for the guests.
She loved traveling, especially to the Caribbean and New York City, and writing was her passion. She was the author of two books, entitled, A Twist of Loyalty and December Wonderment, and she numerous plays to her credit.
Patricia will always be remembered as a beautiful, quiet and gentle soul who left an indelible impression on anyone who encountered her.
She leaves to cherish her memories: her children, Niya L Blackwell, Esq. (daughter) and William R. Ray II (son); three grandchildren, Malik, Daqwon and Keira Ray; Step-Mother, Councilwoman Jannie L. Blackwell; two sisters, Brenda Blackwell and Rev. Audrey Washington; two brothers, Andre Johnson and Rev. Michael Johnson; and a host of nieces, nephews, cousins and friends. She was preceded in death by siblings, Barbara Thompson, Lucien E. Blackwell, Jr. and Thomas W. Blackwell, IV.
Sorrowfully submitted,
The Family
To plant a tree in memory of Patricia Ray, please visit our
Tribute Store
.
Services
To plant a tree in memory of Patricia Ray, please visit our Tribute Store.
Visitation
Terry Funeral Home
4203-05 Haverford Avenue
Philadelphia
,
PA
US
19104
Visitation
Sharon Baptist Church
3955 Conshohocken Avenue
Philadelphia
,
PA
US
19131
Service
Sharon Baptist Church
3955 Conshohocken Avenue
Philadelphia
,
PA
US
19131
Burial
Mount Lawn Cemetery
84th Street & Hook Road
Sharon Hill
,
PA
US
19079