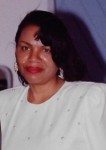 September 23, 1951
-
August 20, 2019
Born in Philadelphia
Resided in

Aldan

,

Pennsylvania
Obituary
Gwendolyn Joyce Price was born on September 23, 1951 in Philadelphia, PA to parents John Barringer and Pearl Cook-Barringer. She was positive and fun-loving and made friends wherever she would go. Gwen was outspoken at a very early age and showed leadership qualities starting as young as elementary school.
In March of 1970, Gwendolyn married Lester A. Proctor-Green, Jr. (predeceased). From that union, she had two children: a son, Lester A. Proctor-Green, III and a daughter, Yahne A. Green-Moran. On July 26, 1986, Gwendolyn married James B. Price, Jr. (predeceased). From that union, she had another daughter, Joy Arlene Price.
She was a member of New Bethlehem Baptist Church in Philadelphia for several years and served as Deaconess. In her later years, she was a member of Aldan Union Church in Aldan, PA. She was a Silver Star member of Alpha Kappa Alpha Sorority, Inc., Omega Omega Chapter in Philadelphia. She also served as a committee member for The Black Women's Health Initiative in Philadelphia, PA.
Gwen continued to raise the bar and reach new levels in education. She graduated from West Philadelphia High School in 1969. She attended Temple University in 1971. After that, she obtained her Master of Human Services Degree, MHS/Administration from Lincoln University in 1988. In 1992, she completed her certification in Human Resource Management at Villanova University. In 1998, she finished her ETA Teacher Certification from the New Life Missionary Bible Institute. In 2011, Gwen completed her final certification in the SHRM Leadership Development Program.
Gwen had a full and busy career. Her career started at Philadelphia Child Guidance in the 1970's. From there she moved on to the Philadelphia Crisis Intervention Network in the 1980's. After that, she worked at Inroads/Philadelphia, Inc. From 1989 to 1990, she was the Coordinator of Pre-College Programs at Lincoln University of PA's Urban Center where she helped juniors and seniors prepare for their education beyond high school. In the 1990's, Gwen worked at Presbyterian Medical Center of Philadelphia. From 1994 to 2013, she worked in various leadership positions at Caring People Alliance of Philadelphia.
Gwendolyn always loved visiting the New Jersey shore and going on cruises. She loved to travel with family and friends.
Gwendolyn leaves behind: three children, Lester, Yahne, and Joy; her brother, Kenneth Larry; aunt, Charmaine Brown; two sons-in-law; one daughter-in-law; four grandchildren, Taylor, Malcolm, Marcus, and D'Andre "Hootie"); and a host of cousins, friends, and extended family.
To plant a tree in memory of Gwendolyn Price, please visit our
Tribute Store
.
Services
To plant a tree in memory of Gwendolyn Price, please visit our Tribute Store.
Service
Aldan Union Church
7 E. Providence Road
Aldan
,
PA
US
19018
Burial
Private