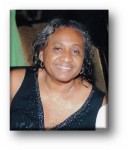 September 15, 1942
-
October 30, 2020
Born in Philadelphia, PA
Resided in

Philadelphia

,

Pennsylvania
Obituary
Life Reflections of Gerrilyn Juanita Sams
God, in his infinite wisdom, mercy, grace and loving kindness, quietly lifted Nita gently on angel's wings into His loving arms. The silver cord of her earthly life was broken. At the age of 78 years she was relocated in her brand new perfect body, from earth to her new home, Heaven. What a joyous reunion with her beloved family and friends. Gerrilyn J. Sams arrived home on Friday, October 30, 2020.
Gerrilyn was born in Waycross, Georgia on September 15, 1942. She was the third of four children born to, Frank Sams 3rd and Beatrice Wilhelmina Small (Sams). Dad and Motherdear and brother, Barney Frank Sams, preceded Nita in death.
Gerrilyn was known by many names. Family, friends, and co-workers called her Nita, Pete, or Gerri. The kids lovingly said "TT." She was raised in a Christian family. At an early age Nita was baptized at Mount Carmel Baptist Church and committed her life to serving God. She was a beautiful, kind hearted, loving person. She had a passion to study God's word and to help foster children have a better life by reaching their potential. She worked diligently to reunite families that had been broken by the system. Through many trials and challenges; physical, medical and emotional, she stayed faithful to God's word. She would often pray, "Dear Lord, hold tight to my hand, don't let me stumble, hold me close, don't let any evil formed against me prosper." In times of distress, she would hum this song, "pass me not oh gentle savior, and help my unbelief." The mighty power of The Most High God will keep you from falling in the face of adversity.
Gerrilyn was educated in the public school system. Nita had an affinity for reading and, was very proud of her academic record. After graduating from The Philadelphia High School for Girls, she attended the University of Penn, CWEP program for two years. She also attended Berean College, and from there, she received her Bachelor of Arts and Science from Antioch University in June 1987.
Gerrilyn was employed at General Electric as an administrative assistant. She also worked for several non profit organizations throughout Philadelphia and Washington D.C. Gerri worked for the Philadelphia Department of Human Services, first as a clerk, then service representative before retiring from management in 2007.
When Nita became seriously ill and confined to her bed, her devoted siblings, and family (Fay, Lou, Marvin and David), lifelong friends, and Bayada nurse Christine and Bayada Aide Myia attended to Nita's every need and comfort with pristine care and loving kindness until she made her peaceful transition from this earth.
God graciously granted Nita her hearts desire, to go quietly in her sleep as her mother did. Praise God from whom all blessings flow.
Nita leaves to mourn and cherish her memory; her loving and devoted sister, Fay W. Burgess (Sams), Louis A. Sams (brother), Marvin J. Burgess (brother-in-law); April Sams (sister-in-law/Barney) five nephews, El' Ahamad Barak (Burgess) Donna Barak, Ephony D. Burgess, Brendan S. Sams, Justin K. Sams and Damian F. Sams; nieces, Teria Sams and Kristen Moore (Sams); aunts: Eura Malory and Gussey Parker (Small). grand nieces and nephews, Antoine, Daria, Alexander, Olivia, Tsadek, Dominique, Charles, (Donna), Falan, Logan, Anthony, Christopher, Shannon, Tyneja, Nondi, Andah, Asa, and Tobias; foster children, Francine, Sabrina, Toya and Terrell. All loving Cousins, Family and Friends.
Prayerfully submitted with honor,
The Family
To plant a tree in memory of Gerrilyn Sams, please visit our
Tribute Store
.
Services
To plant a tree in memory of Gerrilyn Sams, please visit our Tribute Store.
Visitation
Terry Funeral Home Memorial Chapel
4203-05 Haverford Avenue
Philadelphia
,
PA
US
19104
Service
Terry Funeral Home Memorial Chapel
4203-05 Haverford Avenue
Philadelphia
,
PA
US
19104
Burial
Fernwood Cemetery
6501 Baltimore Avenue
Fernwood
,
PA
US
19050