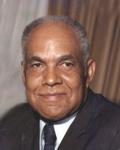 George
Wesley
Allen, Esq.
February 8, 1919
-
November 7, 2010
Born in Cleveland, OH
Resided in

Philadelphia

,

PA
Obituary
Obituary
G. Wesley Allen, Esq. known to his friends as Wes, was born February 8, 1919 and died, November 7, 2010. He was the third of four sons of Bishop Alexander J. Allen 62nd Bishop of the African Methodist Episcopal Church, and Jewett Washington Allen. Wes attended Glennville High School in Cleveland, Ohio and was the state high jump champion and an all-city basketball champion. Despite an attempt by Jessie Owens to recruit him to Ohio State, he decided to attend the University of Michigan where in 1938; he established a new varsity high jump record for the NCAA. He was a First Lieutenant in the Artillery Division of the United States Army in World War II, and served in the judge Advocate General's Corp during the Korean Conflict.
Wes graduated from Case Western Reserve University School of Law in 1947. Soon after, he became associated in the office of the distinguished attorney and later Common Pleas Court Judge, Raymond Pace Alexander, and his accomplished wife, attorney Sadie T. M. Alexander. He was in the general practice of law in Philadelphia for 15 years, and he served as an assistant City Solicitor for the City of Philadelphia before his appointment as Regional Council for the United States Post Office. He retired in 1987.
Mr. Allen's maternal grandmother, Josephine Turpin Washington, who graduated in 1889 from Howard University, worked for Frederick Douglass as a journalist on his newspaper. Recently, many exquisite letters were found between his mother Jewett and his father Alexander Allen. The poetic letters were written in 1911, while his father and uncle, Nimrod, who founded the Frontier's International Club, were matriculating at Yale University. Two brothers of Mr. Allen predeceased him, Joseph Allen, who finished Yale Seminary School, held a critical role in the Urban League in the 50's and 60's. Another brother Griffin Allen, a renowned ophthalmologist at Cleveland State Hospital, developed groundbreaking eye surgery. His surviving brother, Samuel, 92 years of age, a Harvard Law graduate, is a well-known poet and past tenured professor at Boston College.
Mr. Allen is a member of Mother Bethel AME Church, Alpha Phi Alpha Fraternity, a past member of the Frontiers Club International, the Del Val Golf Club, the Barristers Club, plus federal and local Bar Associations. Mr. Allen's hobbies were golf and recitation. He enjoyed reciting poetry, particularly Shakespeare, Langston Hughes and Paul Lawrence Dunbar. He was married to the late Eloise Downing Allen for 59 years, a past Moderator of the Philadelphia Presbytery. He met the love of his life in the bookstore at Howard University. They loved to vacation on Martha's Vineyard. The couple is survived by two sons, Wesley C. Allen, Esq. and Mark D. T. Allen, an orthopedic surgeon, their respective wives Renee, and Kim, and six grandchildren, Candace, Mark, Annice, Laura, Julie and Cecily Allen.
To plant a tree in memory of George Allen, Esq., please visit our
Tribute Store
.
Services
To plant a tree in memory of George Allen, Esq., please visit our Tribute Store.
Cemetery
Ivy Hill Cemetery
Easton Road, Box 27307
Philadelphia
,
PA
U.S.
19150
Memorial Service
Ivy Hill Cemetery Chapel
1201 Easton Road
Philadelphia
,
PA
US