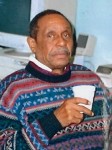 September 6, 2019
Resided in

Philadelphia

,

Pennsylvania
Obituary
ERNEST JAMES FORD (affectionately called Sug & Pop Pop) was born on May 9, 1919 to the late Cleveland and Laura Francis Galloway Ford (Sis) in Midway, Florida. He was the third oldest of seven siblings with two remaining, Henry and Viola. He was educated in the Midway public school system and graduated from high school in 1936. Ernest was drafted into the United States Army during World War II and served from 1941 to 1943. He was assigned to Pearl Harbor Hawaii on December 14, 1941, which included the cleanup efforts from the aftermath of the bombing . Upon leaving the war he returned home and enrolled in Bethune Cookman College for 1 year before deciding to enroll in a trade school for masonry. The job market for African American males returning from the war was scarce. As a result, his father tried to persuade him to work on the family farm but to no avail. Ernest took a leap of faith with his trade skills and relocated to Philadelphia along with his brothers Price and Robert, who settled in New York. Upon arriving in Philadelphia in the late 1940 he gained employment with Turner Construction Company from which he ultimately retired. He met and married his future wife Henrietta Curry, who preceded him in death in 1995. From this union their daughter Darlene was born in 1950. Ernest was a dedicated family man and gentleman who cherished his family all of his life. He was a father figure to all of his nieces and nephews and was highly respected by everyone.
His favorite past times were attending horse racing, dog racing and the casino. In addition, he was a member at Greater Saint Matthews Church and was an usher. He regularly attended church well into his late 80s. There was nothing like seeing him on Sundays dressed in a suit with a nice hat. He was ALWAYS dressed impeccably. He never forgot his roots and visited his relatives in Florida every Christmas and every summer. During their road trips early in the 1960s when racism was at all time high, they would drive straight through without stopping in certain states due to racial tension. There were no hotels and restaurants along the route they traveled in which blacks weren't allowed to say He was well equipped with the Negro Motorist Green Book which was a guide book for African American road trippers during the Jim Crow Era. He did not let the racial discrimination prevent him from visiting his family. For many years he took his only grandson, Sharif along every summer until he was a teenager. That was their time to bond. Ernest and his 2 brothers would drive to Florida until he got older, but that still didn't stop him and he started flying every summer. He had a special bond with his nephew Larry (travel buddy), and told him that before he passed away he wanted to visit Hawaii again. That became a reality in April 2009 just shy of his 90th birthday. He made sure he was at every family event and celebrated milestones for all of his family both in Florida and Philadelphia. His pride and joy were his daughter and his grand children. His dedication to them was immense. Ernest and Henrietta traveled everywhere Darlene and the grandchildren lived during the military service of her former husband. While overseas. He was present in the birthing suite in 1998 when his great granddaughter, Taylor was born. It was a joyous occasion and he was ecstatic to be present to welcome her into the world. He was present every Sunday for dinner and always raved about how good the food was. It didn't take much to make him happy. He enjoyed an occasional Miller Light, a good meal, and any sporting event on television with his family. He was very independent until he was 97 years old. However, the family became worried about the dangers in the streets of Philadelphia Ernest feared nothing and kept a pocket full of money. He had a mind of his own and you couldn't tell him what to do or where to go...He will be greatly missed by all that loved him. He lived a good life and never complained about ANYTHING. He leaves to cherish his memory his daughter Darlene Dawson, his grand children Shawna, Sharif (Janine) and Rashada. 6 great grand children, Sabriya, Taylor, Sharif II, Shane, Andrew and Ahmar (Bam Bam), his sister Viola and brother Henry, and a host of nieces, nephews and extended family.
To plant a tree in memory of Ernest Ford, please visit our
Tribute Store
.
Services
To plant a tree in memory of Ernest Ford, please visit our Tribute Store.
Visitation
Terry Funeral Home Memorial Chapel
4203-05 Haverford Avenue
Philadelphia
,
PA
US
19104
Service
Terry Funeral Home Memorial Chapel
4203-05 Haverford Avenue
Philadelphia
,
PA
US
19104
Burial
Washington Crossing National
830 Highland Road
Newtown
,
PA
US
18940