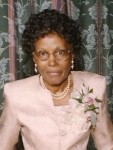 January 1, 1927
-
November 3, 2018
Born in Pendleton, NC
Resided in

Philadelphia

,

Pennsylvania
Obituary
ERLEST LOTTIE DODSON, "Sis" as she was affectionately called, was born in Murfreesboro, North Carolina on January 14, 1927 to Sarah Joyner DeLoatch and Junius Edward DeLoatch. She was the youngest of 13 children. All of her siblings preceded her in death. At an early age her mother and father died and her sisters became the gatekeepers of her upbringing. Even though all of her siblings were deceased she continued to have a loving and supportive relationship with all the extended family members. She was the glue that kept the family connected.
Erlest was baptized at Zoar Baptist Church in Pendelton, North Carolina where she was a member for many years. She was educated in North Hampton County School District, NC. and graduated from Willis Hare High School. Erlest was joined in Holy Matrimony to the late Isiah Dodson and from that union they had a daughter Erlest Virginia Dodson
She moved to Philadelphia in 1954 to gain better employment. For years, Erlest proudly and diligently worked as a domestic. She said it was hard work, but it taught her the "art " of cleaning. Soon she changed jobs in 1958 and became a machine operator for Robert Bruce Knitting Mills. She was employed there for 23 years. She enjoyed her time at Robert Bruce Knitting Mills. There she met people who remained her life long friends. When the factory closed, she worked for the Philadelphia Board of Education as a special education classroom aide and also as head cook of the Food Service Department at Wilson High School until her retirement.
To continue her Christian journey, she joined White Rock Baptist Church and later she became a member of Greater White Rock Baptist Church. She was a faithful member of 59th Street Baptist Church. She attended regularly until her illness made it difficult for her to travel. She was a Christian woman who deeply believed in her relationship with God. She never forgot to pray. Every night she would kneel at her bedside in prayer. She truly believed in the power of prayer.
Erlest was the Mrs. Fix-it of our family. She loved working with her hands and she could fix practically anything. She could sew, upholster and she was knowledgeable about plumbing, heating, carpentry, and roofing. The repairmen were amazed by her knowledge and often took her suggestions for repairing the problem.
She loved sports and at any given time you could find her in front of the TV switching from one channel to the other watching 3 or 4 games at a time.
Erlest was also a comical lady. She could be counted on to deliver a funny one liner just when you didn't expect it.
She deeply loved her family and took great pride in her grandson Michael. When he was born she had a grandmother's prophecy and said this is Dr. McCoy. It was a grandmother's prophecy and she contributed strongly to it becoming a reality. When he married Dawn, she was so happy and felt they were a good match for each other. Then came her great grand children Miles and Madison and they were the apples of her heart.
She leaves to cherish her memory: her daughter, Erlest Virginia McCoy; grandson, Dr. Michael R. McCoy and his wife, Dawn; great-grandchildren, Miles W. McCoy and Madison N. McCoy; special friend, James R. Goode; sister-in-law, Alberta Pope; devoted niece, Annese Walker; and a host of other relatives and friends.
To plant a tree in memory of Erlest Dodson, please visit our
Tribute Store
.
Services
To plant a tree in memory of Erlest Dodson, please visit our Tribute Store.
Burial
Fernwood Cemetery
6501 Baltimore Avenue
Fernwood
,
PA
US
19050
Viewing
Fifty-Ninth Street Baptist Church
315 South 59th Street
Philaelphia
,
PA
US
Service
Fifty-Ninth Street Baptist Church
315 South 59th Street
Philaelphia
,
PA
US