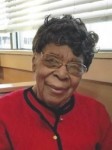 March 31, 1920
-
November 1, 2018
Born in May Fery, AL
Resided in

Philadelphia

,

Pennsylvania
Obituary
On Thursday morning, November 1, 2018, God called home his fervent prayer warrior, EMMAMAE FOSTER.
Emmamae was born on March 31, 1920 in Camden, Alabama to Governor and Harriet Williams. Emmamae was one of ten sisters and four brothers.
Emmamae graduated from Wilcox County Training School. After graduation, she relocated to Mobile, Alabama where she met and married Willie G. Foster. She had four children, Charles, Marie, Eliza and Frederick. After becoming a widow she and her small children relocated to Philadelphia.
Emmamae joined True Vine Church of God in Christ where she received Christ as her Lord and Savior under the tutelage of Rev. Frederick Hudson, there she met Mother Henrietta Jefferson. Years later they became noon day prayer partners, praying everyday together except Sundays. Toward the end when she could no longer communicate, Mother Jefferson continued to call and pray with her until her demise.
Emmamae worked diligently in the church. She said that God anointed her hands to work with the sick and shut in. she carried this calling out until God ceased her work. She was always involved in prayer and loved being in all night prayer meetings. At the time of her passing, Emmamae was a member of Gate to Heaven Ministries under the leadership of Apostle L. M. Smith.
Emmamae Foster was a true fashionista and had a hat for every outfit; even one for her casual wear. She was also a great seamstress and an excellent cook. She loved sweets and cakes were her specialty.
Emmamae loved the Lord wholeheartedly. She also loved her family, especially her grandchildren who she gave special nicknames to. She always said, "Payday is coming after awhile".
Emmamae was preceded in death by her daughter, Eliza and Grace Hunter, who was like a daughter.
She leaves behind: three children, Charles (Dorothy), Marie and Frederick; her sisters, Naomi Carr, Ruth Peavy and Orpha Golden all of Ohio and Ceola Myers of Philadelphia; seven grandchildren, Anjanetta Williams, Michele Monroe, Sean Thomas, Jacquelyn Saunders, Jasmine Smith, Justine Smith and Danika Collier; three great-grandchildren, Amir Casey, Jacquell Williams and Jakla Smith; adopted grandchildren, Ameana Barber, Nakisha Hendricks, Deanna Smith, Nicole Nelson and Tanisha Scott Gilmore; god-daughter, Priscilla Moseley, those who considered her a second mother, Charlotte Davidson, Denise Blanding and Soriya Powell; spiritual daughters, Joyce Melecio, Saundra King, Rebecca Smith, Margie Gaskin and Patricia Barrenger; Adaina Melecio, who she lovingly thought of as her little girl; Shelton Melecio, god grandson, who held a special place in her heart; spiritual sister, Florence Nixon, whom she loved like a blood sister; Michelle Browne-Cathey, who held a special place in her heart; and Renee Davis, who she loved talking and kidding with; a host of other relatives and friends.
Sorrowfully submitted,
The Family
To plant a tree in memory of Emmamae Foster, please visit our
Tribute Store
.
Services
To plant a tree in memory of Emmamae Foster, please visit our Tribute Store.
Viewing
Deliverance Evangelistic Church
2001 W. Lehigh Avenue
Philadelphia
,
PA
US
Service
Deliverance Evangelistic Church
2001 W. Lehigh Avenue
Philadelphia
,
PA
US
Burial
Merion Memorial Park
Rock Hill Road & Bryn Mawr Avenue
Bala Cynwyd
,
PA
US
19004