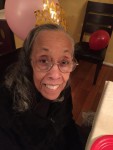 March 6, 1934
-
February 9, 2019
Born in Minden. WVA
Resided in

Philadelphia

,

Pennsylvania
Obituary
WILLIE MAE WHITTLER ECHEWA, the eldest of three children, was born on March 6, 1934 to Isiah Whittler and Geneva Ward Whittler in Minden, West Virginia. Willie Mae, nicknamed "Pete" or "Pedro," was a hard-working young woman. Student by day, domestic by evening, she was elected homecoming queen in 1952 while attending Dubois High School. She was tickled by the honor of being called a queen and driven through town in the back of an open-top convertible. Willie Mae planned to enter the army after high school, but her rousing speech at a 4H Club event created an opportunity for her to enter West Virginia State University.
After graduating from West Virginia State with a B.A. in Education and beginning her teaching career, Willie was awarded a scholarship to attend Columbia University Teachers College. This nudged her one step closer to her dream of working in Special Education with inner-city children, because in her words, "Minden was like the inner-city in the weeds. God got me out of it, and this is my way of giving back."
Willie completed two degrees at Columbia and became a professor at Grambling University in Louisiana. During that time, she began corresponding with a young journalist, Thomas Obinkaram Echewa, whom she later married. From that union, three children - Martin, Chinyere and Olenga - were born. The couple later moved to Philadelphia to enter doctoral programs. While a student at Temple University and a wife and mother of three young children, Willie began working in the School District of Philadelphia in 1973. She retired in 2000.
Despite working two jobs at times to keep her children in private schools and get them through college, the devoted mother earned her Doctorate of Education 15 years after starting. She was more excited about what she had learned than the prestige of the degree. She used to joke that "PhD" stood for "post hole diggers."
Though highly accomplished, Willie was extremely humble. When asked about the enormity of her journey, her answer was always simple: "God is good." She proudly called herself a "Hill Billy from Minden (by God!) West Virginia." She loved Minden, which shaped her gifts of humor and storytelling to create unforgettable laughter sessions that are still recalled today. She was a great cook, who was quick to share her special fried chicken, grits and gravy and various Nigerian dishes. She was nicknamed Sister Mae, Aunt Pete, Big Willie and The Old Lady by those who loved her. Many have said that Willie was one of the most encouraging and generous people they ever met.
Willie was an active member of St. Therese and St. Raymond parishes. In retirement, her idea of rest was working out at the gym, spending time with her grandchildren and helping people discover their vocational passion.
In 2009, the Dr. Willie W. Echewa Opportunity Scholarship Fund was established to provide college grants for inner-city students with academic potential - www.echewafund.org. In 2010, Willie was elected into the West Virginia ABSSA Hall of Fame due to her extensive contributions to education.
Willie leaves to mourn: children Martin (Monique), Chinyere and Olenga Anabui (Michael); grandchildren Martina, Marizu, Mmalita and Melia; niece Sonya Whittler; nephews Ngozi and Vincent Watts; and many great -nieces and -nephews. Willie is preceded in death by her parents and brothers, Isiah and Charles.
To plant a tree in memory of Dr. Willie Echewa, please visit our
Tribute Store
.
Services
To plant a tree in memory of Dr. Willie Echewa, please visit our Tribute Store.
Viewing
Saint Raymond of Penafort Church
1350 Vernon Road
Philadelphia
,
PA
US
19150
Service
Saint Raymond of Penafort Church
1350 Vernon Road
Philadelphia
,
PA
US
19150
Burial
Ivy Hill Cemetery
Easton Road, Box 27307
Philadelphia
,
PA
U.S.
19150