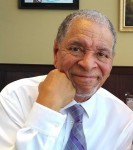 Charles
Sylvester
Williams
October 16, 1944
-
April 29, 2019
Born in Philadelphia, PA
Resided in

Philadelphia

,

Pennsylvania
Obituary
MR. CHARLES S. WILLIAMS, known as Charlie to all of his friends, family, and loved ones, a beloved husband, father, teacher, and lifetime member of Kappa Alpha Psi Fraternity, Inc. made his transition on Monday, April 29, 2019. He was 74 years old.
Charlie was born on October 16, 1944 in Philadelphia, PA, to the late Leander and Estelle (King) Williams. He was raised in West Philadelphia along with his four siblings, Roland, Sammy, Juanita, and Glenn. During his early childhood years Charlie developed a deep love for jazz and began building an extensive collection of jazz albums that continued to grow throughout his lifetime. He was also an avid sports fan who enjoyed playing basketball, tennis, and watching his beloved Sixers and Eagles whenever he could.
He was educated in the Philadelphia Public School System and baptized at a young age at the New Bethlehem Baptist Church. After high school, Charlie worked as an Assistant Director and youth basketball coach with the Philadelphia Department of Recreation where he reunited with, and later married his childhood friend and soulmate, Edith Pridgen. From this union the happy couple was blessed with two beautiful daughters, Charisse (Reese) and Lakeda (Keet).
Charlie attended Cheyney State University where he earned a Bachelor of Arts Degree in Education. After graduating from Cheyney, he continued his studies at Villanova University, and earned his Master's Degree in Science Education. From there he was employed with the Philadelphia Public School System, where he would serve as a dedicated Science Teacher for 30 years before retiring in 1994. Charlie also served as a teacher and youth mentor with the American Foundation for Negro Affairs (AFNA) where he would inspire and support many African American youth in their pursuit of careers within the medical and legal fields. With his calm demeanor, bubbly personality, and positive outlook on life, Charlie was a favorite among the staff and students throughout his career.
Charlie absolutely loved spending time with his family and friends, telling jokes and stories, listening to jazz, playing cards (especially pinochle and bridge) and traveling the world with his soulmate, Edith. Whether it was swimming, tennis, playing cards, or basketball, he took great pleasure in beating his friends and family members at whatever it was they were competing in. Once he made up his mind he was going to be great at something, he would continue to work at it until he was the best. This included putting together puzzles where he would take days, even weeks to complete what would ultimately end up being a beautiful work of art, worthy of being framed and hung on the wall for display.
This determination and can-do attitude carried him far throughout his life and played a major role in him overcoming a major brain aneurism that may have ruined a person with a negative mindset. With the love and support of his wife, family, and friends, Charlie bounced back from this health scare stronger than ever, inspiring and raising the spirits and mindsets of countless others with his positive attitude, determination, and most of all, laughter along the way. No one will ever, ever forget that laugh!
Charlie never met a stranger. Family, friends, associates, and even strangers could always rely on his unique humor, wit and compassion to brighten any event. His positive outlook was infectious and endeared him to people from all walks of life, wherever he went in his travels around the world. It was literally impossible to be angry or upset around him. No matter how bad you thought your problem or situation was, he would find a way to bring a smile to your face that would end up turning into a chuckle and then a laugh. He would give you the necessary advice so you could get to a solution and then he would just keep messing with you or laughing at you until your problem or situation no longer seemed anywhere near as bad as it did before you talked to him.
Charlie was preceded in death by his brother Samuel and his sister Juanita. He is survived by his loving wife, Edith, daughters, Charisse (Brooks) and Lakeda, grandsons, Nathaniel Jr., Emeka, Jamir, Nolen and Julian, granddaughters, Sean and Manisha, brothers Roland and Glenn, son-in-law Nathaniel; and a host of loving great grandchildren, nieces, nephews, cousins, and friends.
To plant a tree in memory of Charles Williams, please visit our
Tribute Store
.
Services
To plant a tree in memory of Charles Williams, please visit our Tribute Store.
Visitation
New Bethlehem Baptist Church
Preston & Aspen Streets
Philadelphia
,
PA
US
19104
Service
New Bethlehem Baptist Church
Preston & Aspen Streets
Philadelphia
,
PA
US
19104
Burial
Eden Cemetery
1434 Springfield Road
Collingdale
,
PA
US
19023