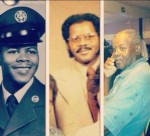 August 23, 1931
-
July 24, 2018
Born in Wayne, PA
Resided in

Palm Coast

,

Florida
Obituary
CHARLES FRAZIER was born on August 23, 1931 to the late Ross Frazier Sr. and Clara Frazier the sixth of eight children born to that union. "Charlie" as he was known was born in Westchester Hospital although the family lived in Howellville, PA. The family later moved to Philadelphia where he attended Philadelphia Public Schools and was a graduate of Overbrook High School.
After working for a short time at various jobs he enlisted in the United States Air Force and served as a radio operator during the Korean Conflict. During his time in Greenland he met and bonded with life long friends Richard Hansen, Raymond Crumbly, Don Jones, and Maurice Hickman and often shared stories of those days and how they supported one another during tough times. After leaving Greenland the friends stayed in touch and gathered frequently to enjoy each other's company.
While in the military he married high school sweetheart Thelma Floyd also from Philadelphia and a graduate of Overbrook High School. The young couple spent time in Texas before returning to Philadelphia to begin their lives together. After moving to Philadelphia Charles and Thelma along with his older brother Bob and brother-in-law Howard Speed owed and operated a small record and appliance repair shop on 60th Street in West Philadelphia establishing his entrepreneurial roots. Charles and Thelma started a family and had three children Leslie Ann, Charles Michael and Alison Beth. In his later years he met and married Florence Anne Sumpter of Abington, Pa and nurtured his stepchildren Phillip and Elizabeth (Li).  Charlie spent many years traveling, playing tennis and skiing.
A staunch believer in education, Charlie in the early 60's attended Cheyney State College and earned a Bachelor of Science degree in Education. While teaching fulltime at Sayer Junior High and later Beeber Junior High he also worked part-time for the US Postal Service and still found time to attend the University of Pennsylvania where he earned a Master's Degree in Education and an Administrative certification. He was also a member of Phi Beta Sigma Fraternity and was involved in planning many events sponsored by the fraternity. As a community activist he was a member of Black Men in Motion, worked with the Kingsessing Roadrunners, built games for community events and helped engage many young men in sports. During the turbulent 60"s and in the mist of our struggle for Civil Rights he attended the March on Washington and supported the local chapter of the Black Panther Party. Leaving the district for a short time he worked at Trenton State College as the Director of Community Affairs. Returning to the Philadelphia School District he took a position relating to Alternative Programs for the district. In that position he developed and wrote the curriculum for what would become CAPA (Creative and Performing Arts High School) and Carver Engineering and Science High School. Finally getting an opportunity to head up a school Charlie was assigned as Interim Principal at John Bartram High School in 1976, this began and established his tenure as an administrator with the district. He later served as Vice-principal at Overbrook, John Bartram, and finally retiring from the district as vice-principal of West Philadelphia High School.
Once again feeling the entrepreneurial spirit Charlie decided to try his hand at building in one of his favorite places Martha's Vineyard. Along with Air Force friend Richard Hansen, who was instrumental in bringing him to Martha's Vineyard in 1957, later, during the early 70's the two began planning. The original plan was to build housing for the two families but Charlie the visionary seeing the future decided to begin his Vineyard Legacy. With the blessing of his friend Richard, Charlie along with brothers and master carpenters Bob and Ross began building houses on the three-acre lot, which became known to guest as Frazier's Circle and later purchasing several other lots. For the next several years the brothers made weekly trips to Martha's Vineyard on the weekends and including summer breaks building Charlie's Vision and supporting their brother. As the years went by it became somewhat of a family venture and when finally completed the trio had built seven houses encompassing fourteen rental units. In the coming years Frazier's Circle became a vacation destination for many families and till this day still operates.
Desiring a warmer climate he pulled up stakes and headed south to Palm Coast Florida where he enjoyed playing golf, relaxing with a book and getting together with the Palm Coast Thursday Lunch Bunch, breakfast at Cracker Barrel, visits from grandchildren and attending gatherings at friend's houses. Never giving up his desire to educate our young black men and an opportunity to pass on his wisdom, Charlie joined the African American Mentoring Program servicing the Flagger County School district and Rymfire Elementary School. Even as his health declined he pressed his way to those sessions with the help of many friends. He always stressed the importance of education and financial independence. While living in Palm Coast he was a member of Mount Calvary Baptist Church where he attended faithfully until his illness sidelined him. While living up north he was a member of the Deacon Board at Salem Baptist Church in Jenkintown and often attended Church of the Open Bible with family members.
Charlie enjoyed traveling especially if it was to some remote skiing destination he took many trips with The Blazers Ski Club where he earned the nickname "Mogul Charlie" for his ability and enthusiasm for skiing the expert hills with moguls. He made sure all his children learned to ski and play tennis, two of his favorite sports. He would show you the basics and then you were on your own. He enjoyed reading and had a thirst for knowledge and if you saw him on the Vineyard you would see him on the couch or the deck with a book, newspaper or magazine. He was always ready to engage you in a lively discussion about any topic and you better have your facts straight. He was always ready to "Google It." Always ready to tell a joke that was followed by a jolly laugh as if it was the funniest thing you ever heard. Dad was a great storyteller and could recount many experiences at the drop of a hat. If you had an issue he had a story. Charlie loved spending time with family and cherished the monthly Sibling Luncheon, which was held the third Saturday in each month. There they would eat and share their experiences and their love for the goodness of God. One of his favorite sayings was " If the good Lord spares me." Dad maintained a deep spiritual awareness and always shared the Gospel of Jesus and how he has been kept by the grace of God. One of many fond memories we have as children is walking in our parent's room and we see dad on his knees praying. He knew from where cometh his help. Many will miss him but his legacy has been established and will remain for years to come.
To plant a tree in memory of Charles Frazier, please visit our
Tribute Store
.
Services
To plant a tree in memory of Charles Frazier, please visit our Tribute Store.
Visitation
Salem Baptist Church of Jenkintown
610 Summit Avenue
Jenkintown
,
PA
US
19046-3237
Service
Salem Baptist Church of Jenkintown
610 Summit Avenue
Jenkintown
,
PA
US
19046-3237
Burial
Washington Crossing National Cemetery
830 Highland Rd.
Newtown
,
Pennsylvania
18940