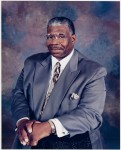 September 10, 2019
Resided in

Philadelphia

,

Pennsylvania
Obituary
The Obituary
BISHOP JAMES MCNEAL JR., D.D.
Devoted Husband, Loving Father and Dedicated Pastor and Man of God
Bishop James McNeal Jr. is known nationwide as "The Godfather of Fellowship." He was the sixth child of eight to Reverend James McNeal Sr. and Lonie Sims McNeal in the small town of Cecil, Georgia. He completed his education in the public school system and matriculated in several institutions of higher learning, holding an Honorary Doctorate of Divinity Degree from the Evangelical School of Philadelphia.
Young James McNeal Jr. join the United States Air force in 1956 where he served as an Air Traffic Control Radar Technician. A little known historical fact is that he is one of the original 13 black USAF soldiers sent to Grand Rapids Minnesota in 1956 to help integrate the area before building a new air base. Chosen because his family had lived in both the Northern and Southern parts United States, he withstood racial slurs, insults, segregation and the prejudice to help educate that area by example that black men have character. His leadership skills proved to be instrumental for helping the integration of the new air base. In addition, while in the military service he won Air Force Boxing Championship and All Worldwide Services Boxing Champion Runner-up and received an honorable discharge. He returned to Philadelphia in 1960 and later met the "Love Of His Life BETTY HARRIS". On August 12, 1961 James and Betty were married.
He saw his West Philadelphia neighborhood still feeling the effects of 1958 killing of In-Ho Oh. "Big Mac" asked by a local church to help start and coach a basketball team for young men. Over the years, he worked with many young men and women and helped them to build a life of character and purpose instead of violence. It was inevitable that he would soon permanently turn over his own life to Christian principles.
Teaching and preaching became his first order of business as God called him into the ministry. Just two years after being saved he was made Superintendent of the Sunday School Department. With confirmation of his calling from the mouth of his pastor, Elder Robert L. McBay he was elevated on April 17, 1971 as minister, surpassing the office of Deacon.
On February 6, 1972, Minister James McNeal, Jr. agreed to serve as Acting Pastor for a two-week old mission founded by his Mother, Overseer Lonie McNeal. In April, 1972, Minister McNeal was ordained an Elder and installed as the pastor of the Church Of New Hope & Faith Universal Holiness by the General Overseer Bishop Edward J. Lucas, Valdosta, Georgia. The flock grew and the ministry expanded.
In August 1972 Elder McNeal purchased an apartment building at 661-663 N. 39th Street and renovated it into a church edifice. He led his congregation into the new church and in April 1973 was appointed General Superintendent of Sunday School. In October 1975, Elder McNeal withdrew the Church Of New Hope & Faith from the Universal Holiness church movement. After reorganizing, the church became one of Philadelphia's most progressive organizations; known as the Church of New Hope & Faith, Inc. Elder McNeal established 28 auxiliaries in this new administration.
In April 1977, Bishop Genie J. Evans consecrated Elder McNeal to the Bishopric. As Bishop McNeal carried out the vision that God had given him, he became the presiding Bishop over seven churches. In 1983 Bishop McNeal became the General Overseer of the Churches of New Hope and Faith Inc. Under his forty-seven years of leadership the Church of New Hope and Faith, Inc. has purchased 24 new 15-passenger vans, as well as 5 mini-vans, seven organs and 40 properties which are occupied by the church members.
On April 15, 1986 the sanctuary building collapsed, an event the insurance company determined as an act of God. On August 10, 1988, (just 28 months later), Bishop McNeal membership, without the financial backing of the insurance company.
God has allowed Bishop McNeal to do what He did not allow His servant David, "the man after His own heart", to do ...build His church. The New Structure of the Church of New Hope & Faith stands perpetual as a monument and tribute to the Good News of God. We have recently renovated the front of the church and added a new marquis.
He fulfilled the position of Elder and Pastor in 1972 and five years later Elder James McNeal Jr. was consecrated to the office of Bishop and later installed as the General Overseer of the Church of New Hope and Faith Incorporated.
Bishop McNeal has served as the General Overseer for seven churches, which extends from Philadelphia Pennsylvania to Caguas Puerto Rico. He is currently serving as the Overseer of the Churches of New Hope and Faith with locations in Georgia, Texas, and Pennsylvania. Bishop McNeal has rendered 47 years of dedicated and faithful service of Pastoral Leadership at the NCFC Headquarters Church of New Hope and Faith in Philadelphia, Pennsylvania. Since the founding of NCFC, the growth of the organization now covers more than 128 cities, and over 31 states including Jamaica, West Africa and Great Britain.
Bishop McNeal has licensed over 176 religious leaders including the consecration of 33 Bishops and Overseers, Prophets, Apostles, Pastors, Evangelists, Ministers and Archbishop and recently ordained his during his first Trustee in the history of his ministry.
Bishop McNeal is involved in the business community in many aspects. He has served as the Assistant Director of the Martin Luther King Jr. Pal Center, and as Coordinator of the National Coalition of Involved People. During the early years Food Bank he was a member of the Board of Directors. Bishop McNeal continued with them for many years as an agency for Philabundance Inc. giving untiring service and support as the prophecy is fulfilled, "through Bishop McNeal, millions will be fed," (Mother Ruby Parsons, Compton California June 11, 1983).
Bishop McNeal has received more than 100 awards during his tenure as Pastor and General Overseer. They include, The Liberty Bell Replica from Philadelphia's First African American Mayor, the NCFC Spirit of Excellence Award in Chicago Illinois, induction into the Hall of Fame of the Evelyn Grave s Drama Association, and induction into his Jr. High School Alma Mata "Wall of Fame." He was honored in a community ceremony attended by religious, community and elected officials dedicating a prestigious 30 foot mural in his honor. Bishop McNeal has also received numerous Proclamations and Citations from the Senate of Pennsylvania, the Governor of Pennsylvania, City Council of Philadelphia, and the Honorable Michael Nutter former Mayor of Philadelphia. He has received letters from four of America's Presidents, Jimmy Carter, William Jefferson Clinton, George W. Bush and the first African American president, Barak H. Obama.
Bishop McNeal has been married to Elder Betty McNeal since 1961. On August 12, 2019, they celebrated 58 years of marriage without a break! In addition, he leaves behind his devoted wife of 58 years, three adult children, Elder Virgil, Brother Jamie, Sister Joaquina, one grandson and his wife, Elder James III and Minister Roshalle McNeal of Houston Texas, and two great grandchildren (twins), James IV and Janai. He also leaves four sisters Iona, Myrtice, Pauline, Lillian, Mother-in-Law Mother Daisy Harris, two brothers-in-law and two sisters-in-law; and a host of nephews and nieces.
To plant a tree in memory of Bishop James McNeal, Jr., please visit our
Tribute Store
.
Services
To plant a tree in memory of Bishop James McNeal, Jr., please visit our Tribute Store.
Visitation
CHURCH OF NEW HOPE & FAITH
661 N. 39th Street
Philadelphia
,
PA
US
19104
Service
CHURCH OF NEW HOPE & FAITH
661 N. 39th Street
Philadelphia
,
PA
US
19104
Visitation
CATHEDRAL OF FAITH BAPTIST CHURCH
1800 W. Cambria Street
Philadelphia
,
PA
US
19132
Service
CATHEDRAL OF FAITH BAPTIST CHURCH
1800 W. Cambria Street
Philadelphia
,
PA
US
19132
Burial
West Laurel Hill Cemetery
215 Belmont Avenue
Bala Cynwyd
,
PA
US
19004