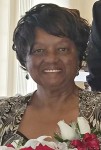 Obituary
On Thursday morning August 30, 2018 our beloved Doris passed away unexpectedly at home in Philadelphia, PA.
Annie Doris Perkins was born December 24, 1945 in Rose Hill North Carolina in Duplin County to the late Ruthie Lee Bethune. Doris was raised by her grandparents the late John and Queenie Murphy. Doris was raised in Rose Hill and attended the Duplin county school system. At the age of 18 Doris decided to venture out on her own and came to Philadelphia to stay with one of her aunts.
Around 1965 while working as a waitress, Doris would meet the love of her life, Jimmy Perkins and was joined in holy matrimony to Henry "Jimmy" Perkins on August 24, 1968. Just last week they celebrated their 50th wedding anniversary and enjoyed their surprise trip to Las Vegas. Out of this union they had two wonderful children, Henry "Lil Jim" and Rayna.
Doris worked for the Philadelphia School District as a bus and school aide and retired after 15 years of service.
During her life Doris enjoyed gardening, going to casinos, shopping, and visiting farmer and flea markets. Doris was also an excellent cook and loved cooking for her family and friends. But one of her greatest passions was spending joyful times with her family and friends. Doris loved her family unconditionally and adored her grandchildren Trey and Nia. So many of us have countless memories and stories involving Doris. Her newest passion became posting on Facebook, and if you were her friend you knew she had no filter when it came to sharing her opinions!!!! Doris was also witty, sassy with a sharp tongue and was not afraid to use it!! Doris was truly the matriarch of the family always having words of wisdom and encouragement to anyone who needed it.
Doris is survived by her devoted husband Jimmy, her children Lil Jim and Rayna, her brother Willie James, grandchildren Trey and Nia. She was predeceased by her mother Ruth and brother Neil. She also leaves behind a host of nieces, nephews, cousins, family, friends and devoted neighbors. Doris was one of a kind, she will always be remembered because she could never be forgotten.
To plant a tree in memory of Annie Perkins, please visit our
Tribute Store
.
Services
To plant a tree in memory of Annie Perkins, please visit our Tribute Store.
Memorial Service
Good Samaritan
6148-50 Lansdowne Avenue
Philadelphia
,
Pennsylvania
19151